Testimonials
"Larry, Thanks so much for sending the guys to help us. We were desparate! Gilbert and Ronnie did an excellend job."
- Joe and Janis Payne
Request Service
Choose Caprock Plumbing, Heating and Air in Plainview
Here are just a few reasons we think you should choose us for your heating, air conditioning, refrigeration and plumbing needs.
Our People
We are just like you. We live, shop, go to church, send our children to school in this area, and feel that living in a small West Texas town is no handicap for good services and products. In our minds, this area and its people are the best anywhere.
Our Training and Professionalism
We go to great efforts to train our staff on all aspects of our equipment. We employ factory trained and NATE certified service technicians and installers ready to do any job right for you. We are certified by the state of Texas for air conditioning, heating, refrigeration, plumbing, and LP gas service. We are fully insured and bonded.
Our Involvement
We are members of the Plainview-Hale County Industrial Foundation, the Plainview Chamber of Commerce, and the Better Business Bureau. We are also a Bryant Factory Authorized Dealer and a Medal of Excellence participant. We are a member of the Lubbock Chamber of Commerce.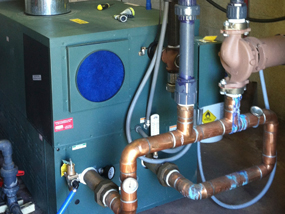 Our Products
We believe in our products so much, that we use the same products in our own homes what we sell to our customers. Bryant Heating & Cooling equipment has earned the Good Housekeeping Seal of Approval and the EPA "Energy Star" seal. This means that you are getting a first class product.
Our Pride
We like what we do and it shows in our work. We cut no corners and strive to provide the highest quality of work possible. We want to keep you as one of our customers for a long, long time. We have been in business for more than 20 years and look forward to many more years in West Texas.